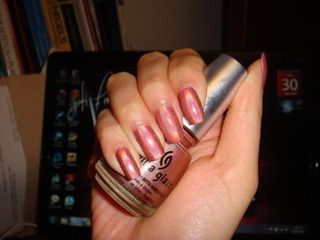 To avoid being called a liar, I am posting my first ever nail polish swatch: China Glaze TTYL. Nail polish connoisseurs will notice that the OMG Collection by China Glaze was released in 2009, so this nail polish swatch isn't exactly new. Well, it's new to me and I absolutely love it! The colour looks fantastic on my skin tone and the holographic effect really shows. The above pic was taken under artificial lighting. I used 3 coats to achieve full opacity.
The formula for TTYL was great - it applied smoothly and dried super fast. I did not use a base coat or top coat. I also thought that the wear time on it was pretty good for a holographic polish - it lasted for a good week with minimal tip wear. I deal with cash and coin going through the bank on a daily basis so it was a pleasant surprise.
There you have it, my first ever nail polish review. More to come soon!
DISCLAIMER: The product(s) in this post was/were purchased by me.